Pneumatically actuated clutches and spring-applied brakes clutch/brake combined units and tooth clutches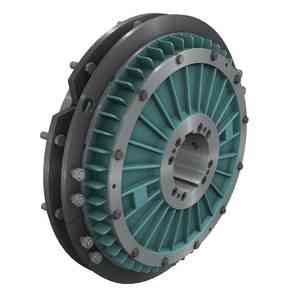 Compressed air represents a secondary source of power that is clean and easy to handle. All types of Ortlinghaus clutches and brakes therefore are offered with pneumatic actuation. In many production shops a powerful compressed air network is already present, compressed air is "clean" and there is no danger of fire in the case of leaks. It is simple to transport and to control and permits in addition rapid and precise operating times even at high operating frequencies. Furthermore the amount of maintenance required for both the compressed air supply system and for the pneumatic clutches and brakes is small.
With torque ratings ranging from 20 Nm to over 100,000 Nm the pneumatic range of clutches and brakes are widely used in all fields of mechanical engineering. Operating pressure of 5.5 bar is required to a maximum of 6.0 bar.
[fusion_old_table id=PnCB /]
* Higher torques on request
** Shaft or bore diameter
*** Flange Diameter
For further information concerning technical data, dimensions and required data for dimensioning please contact Orttech at 440-498-7458 or info@orttech.com